The question asked by many beginners is: how to start voice acting? In this part of the how to become a voice over guide, we'll
give you some advice and ideas on ways that you could start voice acting.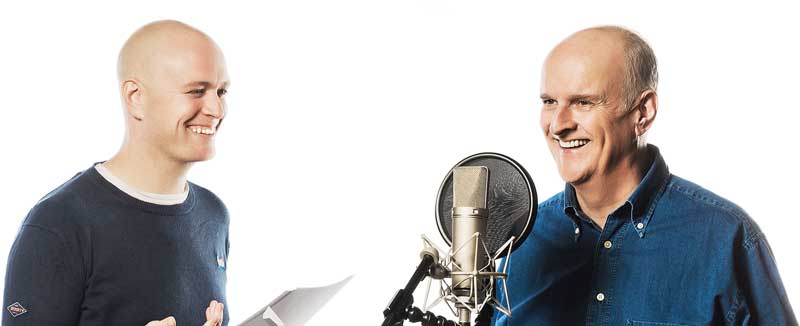 How To Start Voice Acting
Being a successful voice actor takes time. First of all, you need to understand how to use your voice. Although you use your voice in everyday life, voice acting is much more than just talking. In this section we will help you to test your voice skills and give you some tips. If you can improve your voice acting skills, you will experience a dramatic difference in how you approach the written word. These skills are not just essential for voice actors They can improve all aspects of your life, from speechmaking to delivering a presentation at work.
When you think about how to start voice acting, you need to break it down into easy to steps:
Learn how to use your voice
When learning to swim, at some point you have to get into the water. While that may be obvious, starting out as a voice actor presents its own stipulations such as learning how to use your voice. Just because you have been talking all your life doesn't mean that voice-over will come naturally to you! There is a lot to learn.
Voice acting requires a well-rounded set of skills. In this section we'll take a look at some of the most critical skills aspiring talent should develop, in order to have a fulfilling career as a voice actor.
How To Start Voice Acting
There are lots of skills you need to develop and at first glance, it can all seem a bit overwhelming.
First of all, it's important to understand that it takes time to master them all, and by time, we mean years. However, like most jobs you learn by doing the work, and through taking classes and daily practice. In other words you refine and hone your skills as you progress in your career. It is literally a life long learning experience.
The skills can be broken down into three sets. These are the 3 legs of a career in voiceover:
Voiceover skills
Business skills
Marketing skills
How To Start Voice Acting – Voiceover Skills
For now let's take a closer look at some of the essential voiceover skills:
Clarity – this is all about articulating each word so it is clear not mumbled, or garbled.
Cleanliness – refers to reducing the noise made by your mouth so there aren't any unnecessary clicks and other sounds.
Consistency – The ability to deliver a good performance, every time.
Relevance – your delivery should be in total harmony with what you're reading. This makes it sound authentic and believable.
Conversational – this is harder than it may seem. It takes practice to lift words off the page and make them sound as if you're speaking at a relaxed and normal pace.
Cold reading – this skill is a "must-have" for long-form voice over. If you're a busy voice actor, you don't have time to pre-read hundreds of pages of text before you perform.  You need to be able to sight read and deliver copy flawlessly. This takes practice.
Characterization – much voice work requires acting skils. Actors understand what goes into giving a solid, believable performance. You will need to be able to deliver emotionally authentic performances time after time.
Control – a good voice actor knows how to control his or her voice;  pitch, volume, prosody, inflection and breathing.
Confidence – this comes from being prepared through learning and practice, understanding what is required and confidently delivering a great vocal performance time after time after time.
How To Start Voice Acting – A Quick Video
How To Start Voice Acting – Scripts!
We are going to give you some free scripts and help you to have a practice, a kind of homework. But not that boring stuff from school. And we promise no detentions!
We want you to have fun by practicing and discovering your voice. To find out about your amazing, unique voice and what it is capable of you will need to practice, a lot.There are of course many ways to do this, but to help out, we are going to give you some scripts to try.
Some Free Stuff – 5 Practice Scripts
Commercial TV
Interview Trailer
Fibre Bars
Commercial Radio
Car Loans
Finders Keepers
Corporate Narration
Executive Search
Character Narration
Ghost Story
We have lots more scripts on our site, but these will help you to get started and give a you a variety of voiceover to practice.
Practicing The Art of Voice Acting

As a voice artist, your job is to communicate the message contained in a text and bring it to life. Different scripts will of course need to be interpreted differently. This is one of the first areas you need to focus on. Learn how to interpret and deliver a script. Bear in mind that every script is written for a purpose and your first job is to be able to find that purpose and give authenticity and meaning to those words. You will need to connect emotionally with them.
If you think about when you first learned to drive a car, the first few months were all about sheer concentration – mirror, signal,  manoeuvre, mirror, change the gear, am I going too fast? Mirror, do I need the lights on….and so on!
Then, a few months later you have a dawning moment of realisation that you didn't think of any of that for ages – it all just becomes instinctive and part of your subconscious.
Learning voiceover technique is similar, in that there is a lot to learn at the start, but much of it will become embedded into your muscle memory. Let's take a look at the things you have to do to read just one line:
Ensure you're seated in front of the mic properly and at the correct distance
Inhale diaphragmatically
Pause (and frame your mouth for the starting vowel/consonant of the line)
Deliver the line with the right projection
Deliver the line with the right purpose and intention etc.
The first four of those points are the technical aspects that need to be right before you can even think about getting the line right, in character – this is especially true if you're recording yourself (more on that later).
So, start practicing and focus on these first 4 simple technical points, so you don't have to think about them. Once they're in the subconscious, you can work on the delivery.
How To Start Voice Acting – Listen To Voice Over Actors
Beginning a career as a voiceover actor is much more difficult when you try to go it alone. To practice, you could perhaps record advertisements on radio and TV and then transcribe them. Once you have the script and the recording, you can review your own delivery and compare it to the original.
Try Some Free Recording Software
This one's important. Being a freelance voice actor means that you need to have the skills to use audio recording equipment as well as provide a convincing performance. An easy way to start of is to use a package that you may have on your PC or laptop. Audacity is a piece of free software and is a good place to start and at www.gravyforthebrain.com we teach you how to use it and all the other software packages out there, of which there are many.
Do you have marketing know-how?
The voiceover industry, like all entertainment and media fields, is teeming with talented people. So how do you get noticed in a crowded market? Successful voice actors are good at marketing themselves. Marketing your services is very important as a voice talent. These skills can be learned and of course you can also outsource some aspects of this, such as  building your website and designing and printing business cards etc… We cover the essential marketing and business skills later in this guide and in depth at www.gravyforthebrain.com.
For more information on voice acting visit our series of posts on how to become a voice actor