Welcome, you've come to the right place to learn how to become a voice actor.
This amazingly useful and free guide will tell you everything you need to know about how to get into voice acting.
You'll find the answers to many of the initial questions that you might have, such as: How much money do voice actors earn, what are the different skills you need and much, much more.
So, come with us now and we'll help you discover if voice acting is for you. We promise you it will be an exciting and rewarding journey.
If after reading this guide you have more questions, then get in touch with us – we're here to help you.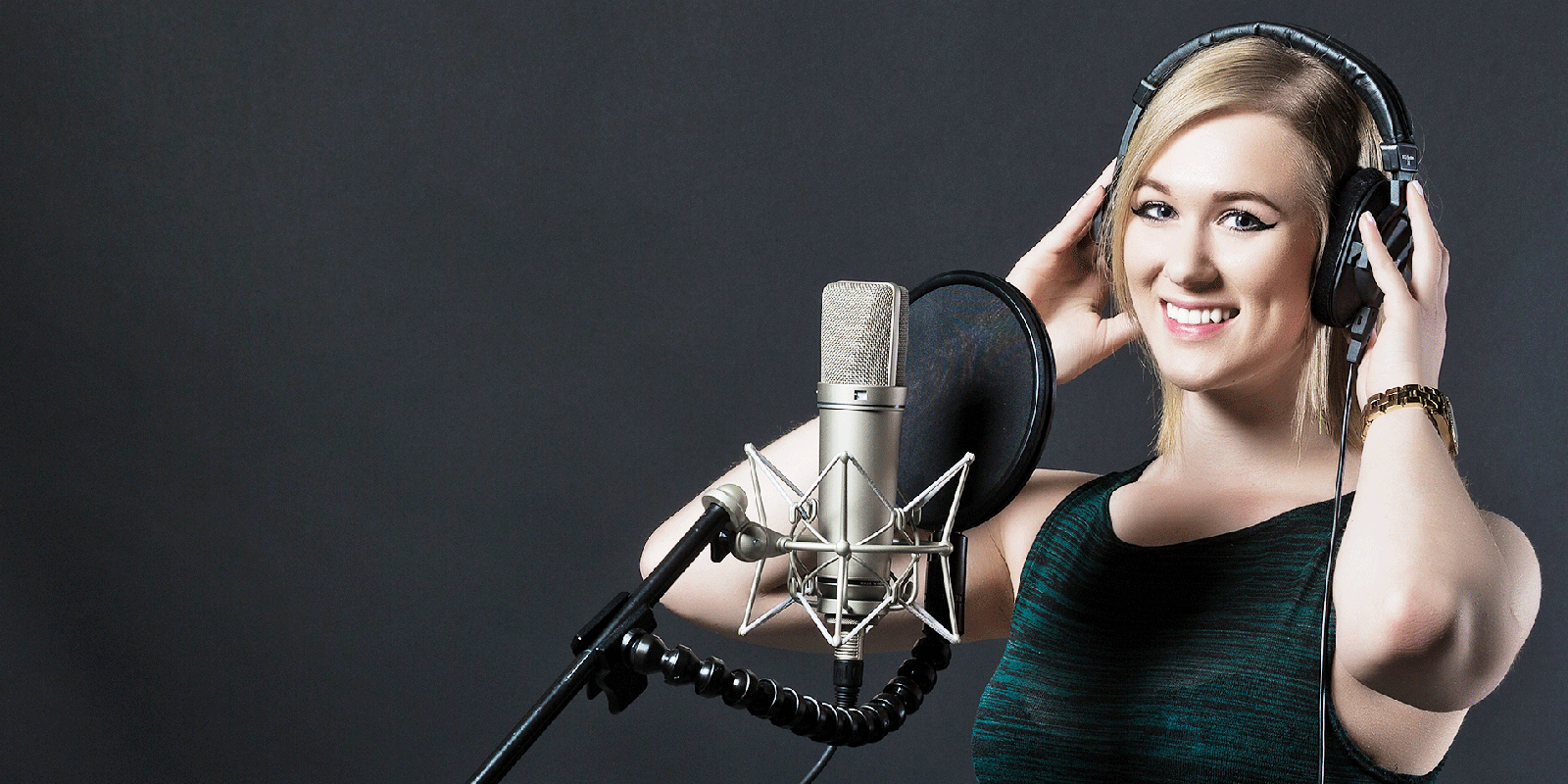 How To Become A Voice Actor.
Have you been told you have a great voice? Or you're you've been told you have a knack for creating vocal characters? Well, this comprehensive, free guide on how to become a voice actor has been developed for just for you. The "How To Become A Voice Actor Guide" is packed with helpful information that explains in simple English how to use your voice to make money.
Everybody starts somewhere, and with this guide you will be able to explore the world of voice acting and discover how a career in voice acting can transform your life.
Firstly, a reality check.
It takes time, a lot of time and practice to develop your voice and learn the vital skills you need learn to use your voice professionally. You see, there is more to becoming a voice actor than you might initially think. It's not just about having what people call a "good voice". It mostly about how you use it. Voice acting is much more than talking, it is the ability to take someone else's words and make them your own – to achieve a purpose. That purpose can be recording a commercial, voicing a character in a computer game, dubbing a movie, reading an audiobook or many other types of work.
This guide is designed to give you an insight into this hidden world and provide you with enough information to help you make an informed choice on whether or not this is a potential career for you. If you already are a voice actor, we will be giving you some tips and ideas to help you improve your voice acting skills to help you experience a dramatic difference in how you approach the written word.
One of the big changes to the world of voice acting is that today most voice actors work from home, in their own recording studios. This appeals to many people who want to develop a lifestyle that allows them to work from home. This guide on how to become a voice actor,explains how you can develop your voice and learn what steps you need to take to start learning the art of voice acting.
First of all all let's explore what you will learn in this guide on how to become a voice actor: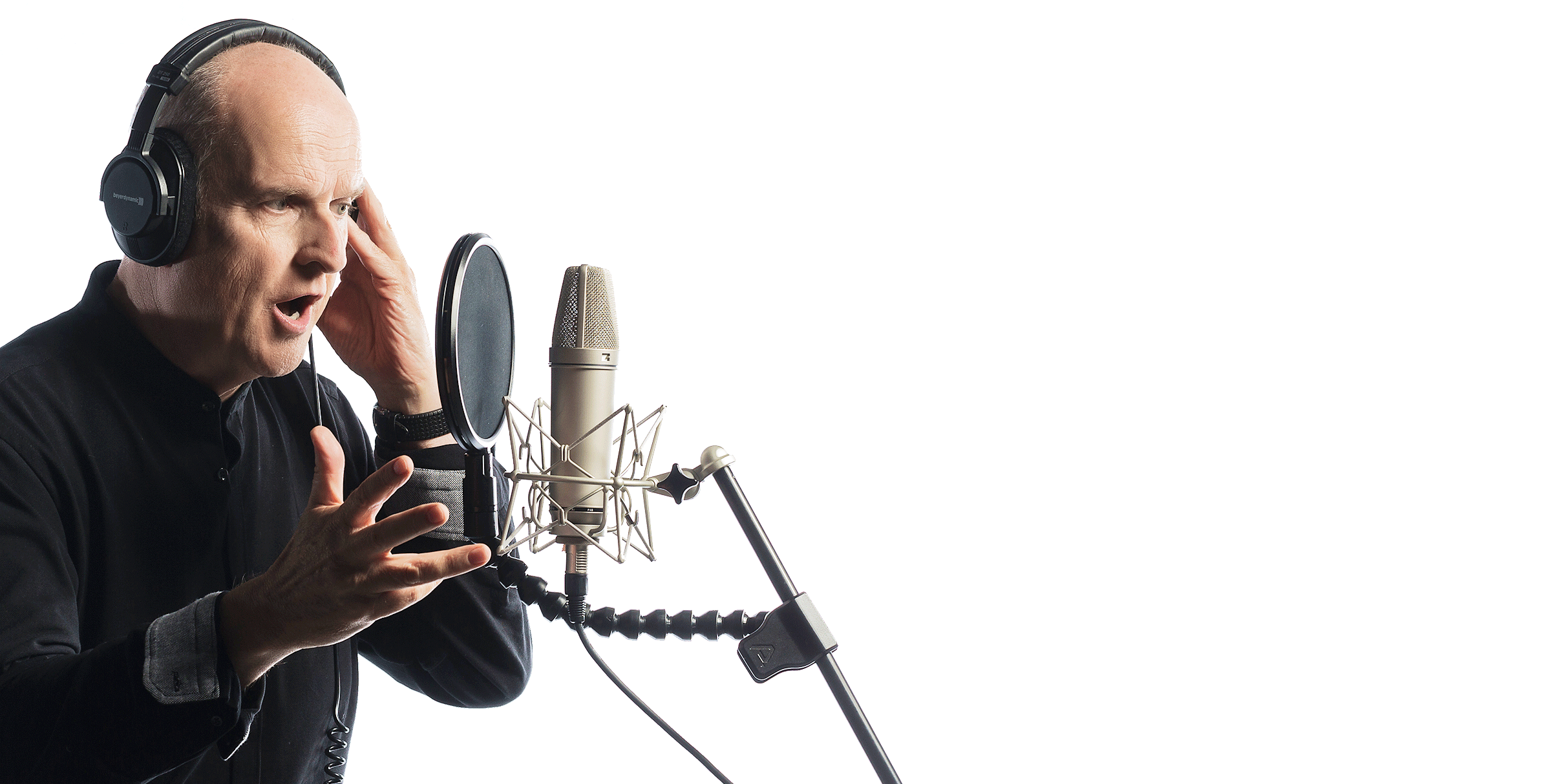 The Step-By-Step Approach To Starting Out As A Voiceover Actor
The advice we present here is tried, tested, and true. Peter Dickson is the foremost leading professional voice actor in the UK known for voicing the X-Factor, Britain's Got Talent, Live at the Apollo, The London 2012 Olympic Games and countless brand commercials. In a stellar  career spanning 40 years, he has worked on over 120 TV shows and series, many of them award winning, been a promo voice on 60 TV and Radio channels around the world, been a featured voice actor on 30 AAA game titles, and voiced in excess of 30,000 radio and TV commercials!
Hugh Edwards is a voice director and BAFTA judge, with over 15 years of experience voice directing games such as Harry Potter and many other well know films and games.
Having delivered workshops to thousands of voice actors Peter and Hugh know how to help beginners learn the art of voice acting.
Voice acting
Voice recording
Audio editing
Business
Marketing
Self motivation
The Different Types of Voice Work.
When you're thinking about how to become a voice actor you might not recognise all the possibilities. Here are the many different genres that employ voice actors:
films
dubbed foreign language films
animation shorts or films
tv programs
commercials
radio or audio dramas
video games
audiobooks
documentaries
IVR phone systems
Voice of God at live events
TV and Radio promos
training / e-learning
podcasts
There are a vast number of opportunities that exist for voice actors. Of course some aspects of voice acting are specialized. It is harder to learn how to do character voices and get into animation, than it is to voice commercials.
The Technical Skills You Need To Develop.
First of all don't be put off by the word technical. The 'technical' skills you need to learn involve how you record and then edit your recording and of course you will need a home studio to do this. This needn't be a daunting prospect though. Many freelance sound engineers are available who can help you with this – contact us if you want a reputable one.
Learning to setup and use audio equipment isn't hard. There are lots of step by step videos in our library to help you. Once you have your home studio setup, along with the audio equipment you need, using it becomes second nature.
Learning to edit and record audio is not difficult either. There are lots of good software packages on the market and we provide easy to follow, comprehensive training on how to use them.
Some examples of the software that you can use:
Sony SoundForge Pro
Adobe Audition
Audacity
Cool Edit Pro 2
Twisted Wave
Wavasour
Garageband & Sound Recorder
Steinberg's Cubase
We cover these in detail and which are best suited to voiceover later in this guide. So, before you go out and buy any recording equipment, software or anything – read the rest of this guide for the best advice and information.
The Earning Potential Of A Voice Actor.
How to make a living with your voice is one of the most popular discussion topics on the web, and understandably so. Unless you have secured your future financially already, you will want to get an idea of how much you can earn as a voice over actor. In this guide on how to become a voice over actor we cover this in much more detail.
So, a basic per hour rate is around $250 or £250. If you get lots of work you can soon see that it can mount up to create a good income. However, only people that really work at their craft succeed.
head to your local theatre and jump on stage!
take an improv class at your local theatre
attend an acting meet-up in your area
volunteer to read to your child's classroom or your niece/nephews
listen to commercials and record on your phone your own voice and play it back
meet with friends and read some books out loud in turn
The point is, you need to get used to reading and voicing out loud. We'll cover this in more detail later in the guide and give you some practice examples. Take notes and start to think about how you can apply then as you start your journey on how to become a voice actor.
Full time vs Part Time Voiceover?
Many people transition into voiceover work over a period of time. Why? Well, setting up as a voiceover requires some initial investment. Professional recording equipment, training, demos, marketing, etc. it all costs money! This guide will help you to get started relatively inexpensively.
f you have some money you can move straight into becoming a voice over full time. The advantages are that you can spend time practicing and learning the craft quickly. You are also more likely have time to dedicate to auditions which in turn will give you an initial income.
There is no right path. Voice over actors who have started out part time have gone on to be equally successful as those who go full time right from the start.
What Equipment Is Best For Recording Your Voice?
Our recommendation is to start small and reinvest the money you make into upgrading your equipment and set up. All clients, whether they are Pixar or just a guy who needs a voicemail message, expect crystal clear audio recordings. You absolutely MUST be recording in a professional recording environment with professional equipment. They are NOT going to settle for less than perfection. Does this mean spending thousands of dollars? Maybe, eventually it does, but not today. What you'll need to get started:
A quiet space to record in, away from traffic noises, household appliances, kids, dogs, etc.
Professional soundproofing materials
A good condenser Microphone and pop shield
XLR cable (most mics come with one)
Mixer/interface
A computer
Recording software
WE cover these in more detail later in this guide.
What To Consider When Creating A Home Studio.
The quality of your sound is paramount to your success with auditions. So, use the best materials you can afford to soundproof your home studio. Some things to consider:
Start small – You can use a walk-in closet or space under the stairs.
Invest in Auralex (https://www.auralex.com) soundproofing materials (If you can't afford this , you can start off by buying some inexpensive duvets/comforters and drape them around your space.
Cover everything! Especially windows or table tops. Cover those pieces of carpeting or something to dampen that noise because your voice will reflect off of it.
Get your computer out of the room. Your microphone will pick up fan noise from your computer. Unless you have a solid state drive that is completely silent, you will want to set up a monitor in your studio and run cables through your wall to a computer outside the room. You can use a wireless keyboard and mouse to control your recording software. This also cuts down on the heat of your studio.
Later on in this guide we will advice you on the best materials to use.
How To Market And Develop Your Voice Over Business.
The most important part of any business is getting customers. That's it. Without customers you just have a hobby.
You will never have to answer to a "boss", but you will need to be your own boss and manage yourself. You will work on your own a lot of the time. SO you need to embrace the benefits and the challenges this presents. Take courses in areas where you need to develop your skills. When you adequately prepare for running a business, you will succeed in its management, even if part of managing your business means hiring out, in areas that you know are not your strongest.
There are three parts to running starting and running your voiceover business:
Branding
Marketing
The service
Fortunately the internet has made this easier and more open. Most businesses have a logo, brand and a website. This forms the basics of how people get to know them. As a voice over business you need to recognise that you need to market yourself. This involves ensuring you get your brand, your business, in front of the right people. Marketing though is also about building relationships with customers, not just selling to them. The more customers that use you on a regular basis the more money you can earn and the easier it becomes to achieve a good income.
All of this may seem daunting at first. But you don't need to be a graphic designer to get a good brand look, you can hire one very easily and inexpensively. There are lots of important parts to marketing yourself, but with the right routines and approach you can soon fit this in to your daily routine.
The most important things to learn are covered in greater detail further on this guide on How To Become A Voice Actor.
Next section – What Is Voice Acting