Voice over also known as voice acting, is part art, part perspiration and a whole lot of practice. In this post, we are going to give you an insight into the amazing, exciting and fun world of voice acting and becoming a voice-over artist.
When we think about what is voice acting, we often hit the first problem. People don't realise how often they hear voice acting in their everyday lives.
Voice acting is extremely varied so, let's, first of all, establish: "what is voice over?"

What Is Voice Over or Voice Acting? – A Potted History
It is commonly believed that the first voiceover was created by Walt Disney for Mickey Mouse in "Steamboat Willie." Although this was in 1928, in reality, the first voice-over was performed in 1900! This historical first belongs to Reginald Fessenden, a Canadian inventor. He was thrilled with Alexander Graham Bell's new device, the telephone, and set out to create a way to remotely communicate without wires. The beginning of "Wireless!".
In 1900, working for the United States Weather Bureau, Fessenden recorded the very first voice over:  reporting the weather.
It is generally accepted that he was the first voice on the radio. In Boston, in 1906, during the Christmas season, he recorded an entire program of music, Bible texts, and Christmas messages to ships out at sea.
What is voice over acting then?
Well, as communications developed, voice acting became more common in radio, animated cartoons, etc. The actors behind those voices were rarely known by the public with perhaps the exception of the eponymous Mel Blanc, a radio personality and comedian. He became known as "The Man of 1000 Voices" for his versatility and is the voice on many cartoons that were made and distributed by Warner Brothers.
One of the most influential and prolific voice-over artists of all time is not commonly known by the public, but very well known in the industry. This is Don LaFontaine, who began voice acting in 1962, recording VO for a movie trailer.
He became the voice of movie trailers and the sound of the cinema for a generation of moviegoers, setting the gold standard for how they were written and voiced.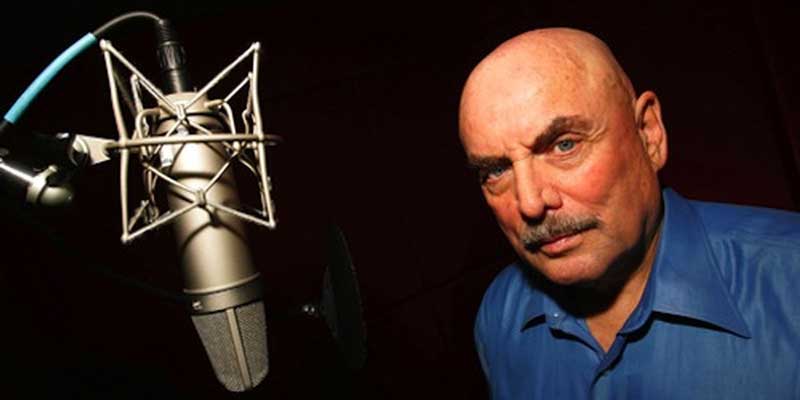 While voice-over acting has grown into being a recognised career path, it still remains unseen and largely unknown by most people. Most voice-over work is still done by classically trained actors who often use voice acting to fill gaps in-between jobs. However, voice acting is increasingly getting noticed and gaining recognition as true performance art and profession in its own right.
Famous actors have gained huge amounts of publicity from box-office animation successes such as those produced by Pixar and Disney. Actors like Liam Nielsen have essentially played leading roles in films through their voice, he was the Lion in Narnia series. People now expect well-known actors to be in animated films. Of course, there are other benefits. Studios can use the name of the stars that appear in the animated films to globally promote these films.
Well-known actors love to perform in animations! Nancy Griffin said it well, in her NY Times article from 2003, "Film/Television; When A-List Actors Are Happy to Hide Their Faces." She wrote, "No hair and make-up necessary, not a personal trainer insight and a four-hour workday: these are just a few of the enticements luring A-list actors, including Jim Carrey, Will Smith and Robin Williams, to headline as voice actors on animated features."
There is now a global roster of famous actors who have become voice actors as a result of these films. Furthermore, new and ambitious actors in their thousands want to find our about voice acting. It's no wonder, as a career voice acting provides a rewarding and challenging opportunity for people from all sorts of backgrounds and skills. Moreover, it is the fun and friendliness of the industry that attracts people.
So when you are thinking about how to become a voice actor,  remember, if you get good at it, you too could become part of the long history or voice over.
Voice-Over Meaning – A Definition of Voiceover
Voice acting is the art of doing voiceovers. It is about providing a voice for use in a professional piece of audio work. This can range from voice over for gaming, videos, cartoons, commercials and much much more. If you take a look at voice over on Wikipedia you will see just how wide and all-encompassing this variety of work really is.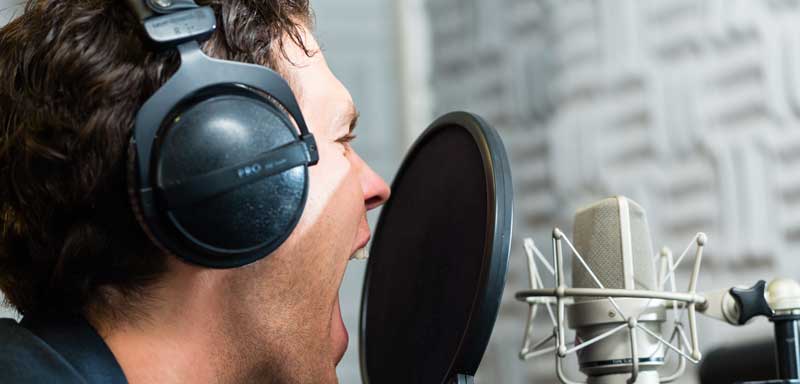 You will have realised by now that voice acting applies to many genres. Voice over artists have a number of different monikers depending on their area of expertise. They can be broken down into five basic voice-over types.
Voice Over Announcers can be heard introducing segments of live television or radio broadcasts such as; award shows, talk shows, continuity, promo and sporting events.
Voice Over Narrators often specialise in audiobooks, documentaries, explainer videos, educational videos, business videos, medical videos and act as audio tour guides.
Voice Actors are heard performing in animated movies, TV cartoons, radio dramas, ADR, video games, puppet shows and in foreign language dubbing.
Voiceover Artists are versatile performers, able to weave interchangeably between any of the above as well as direct telephone prompts (IVR), they can be heard welcoming visitors to a website, or guiding road trips as the voice of a GPS.
Voice Talent refers to all of the above. The term was coined as an easy way to reference all types of voice-over performers and is often used by agencies or companies that hire voice overs.
So the range of work in voice acting is extremely varied:
voice over films
dubbed foreign voice over language films
voice acting for animation shorts or films
tv programs
commercials
radio or audio dramas
video games
audiobooks
live events
awards shows
toys and games
vehicle and transportation
documentaries
a phone message and IVR

promos
trailers

training / e-learning

podcasts
and many more areas.
In general, though the voice actor is not seen only heard and as such, the range of voices needed is huge. The skills and techniques needed for voice acting vary enormously. The techniques and skills you will need for animation are quite different from those needed for say, narrating an audiobook.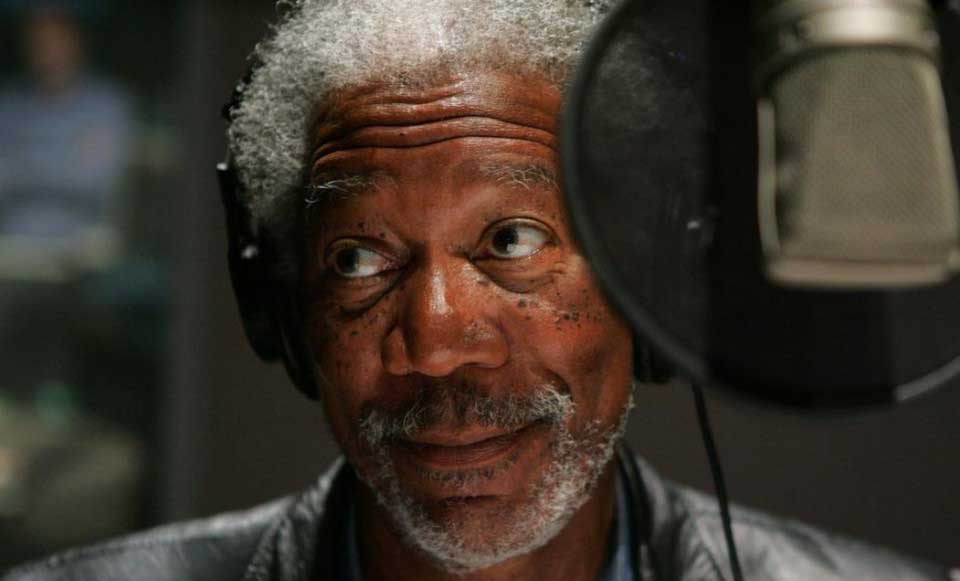 The Role of Voice Acting
Voice actors are performers whose role is to read and interpret someone else's words. The life of a professional voice-over artist is varied and interesting. Work can involve short as well as long term projects. A voiceover for a twenty-second commercial will be a short piece of work, but a video game may take months to produce.
Voice acting also varies in its nature by Country. In the UK, the BBC has a long-standing history of using voice actors for radio dramas, documentaries and films.
This has led to voice acting being recognised in the UK as a specialised dramatic profession. The craft is supported by the British Actors union EQUITY. Many working voiceover artists are members. Similarly, in the USA, SAG/AFRTA support American voice actors.
Now you know more about what is voiceover work you will probably have more time to listen to the many voiceovers that we normally do not associate with voice acting; two examples are:
telephony – such as voice prompts and on-hold messages
continuity – the voice between TV programs
toys – yes the voices when you press the buttons! Think Buzz Lightyear.
Not all voice acting is the same and more importantly not every voice talent can perform all the many types of voice over required.
There are many voiceover professionals that do get a wide variety of work and are known in the industry as all-rounders for the many different characters and voices they can perform, but there are very few of them. Most voice actors tend to specialise in one or two niches, for which they become well known.
VOICE ACTING NICHE WORK OR GENERALIST

This means that they often get picked because they know the industry, have good contacts and have a history of delivering high quality work.
Some well-known voiceovers by type of work:
movies – Star Wars: Darth Vader – James Earl Jones
Animated Movies – Toy Story: Woody – Tom Hanks
Animated TV – The Simpsons – Hank Azaria
X-Factor UK and 2012 Olympic Games – Peter Dickson
Commercials (UK) – The Meerkat Comparethemarket – Simon Greenall
Promos TV (USA) – Joe Cipriano
Reality TV (UK) – Marcus Bentley – Big Brother
One type of voice over work you may not have heard of is ADR. Sometimes a section of a movie may not have been recorded well, for all sorts of reasons.
Rather than getting an often famous actor to fly-in to record that one scene, a voice actor is used who can mimic that actor's voice. Another type of voice acting involved in films is called 'looping' and involves voice actors producing conversations for the background artists in a scene. What this illustrates is the diverse range of work you can end up being involved in as a voiceover actor.
When looking at what is voice acting, you soon get to understand that it is different today than it was 10 years ago and it continues to change and evolve in many different ways. The world has become digital, there are many more channels and as a result, more and more voiceover work is needed.
Some examples of this are the growth of audiobooks, the growth of video for corporate markets as well as the growth in e-learning.
This growing need for voiceover work, along with the opportunities to work from anywhere, including your home now make voiceover an appealing profession, that increasing numbers of people want to work in.
VOICE ACTING – KNOWING WHERE TO BEGIN
When looking at what is voice acting you begin to slowly realise that the focus is on what skills a voice-over actor needs in order to be successful.
The main skills of voice over are broadly similar across all types of work. The main skill is to read "copy" in a style that is suited to the type of work you have been commissioned for.
The art is to make it sound like the words flow naturally and fit with the character (e.g. animation character) or context (e.g. documentary), and do not sound like you are reading the words from a piece of paper in front of you.
In many types of voice over you will need to quickly adapt and modify your delivery to be in harmony with the type of work and script.
The art of a professional is that they can not only adapt and provide the voice that fits but also require little preparation or direction.
So while having a good voice is important, it is being able to adapt it to fit the material and subject that really matters. To do that, you need to learn the essential skills that are required of a voiceover actor so that you can compete for and get work. It's what we teach day in and day out at www.gravyforthebrain.com.
GETTING STARTED IN VOICE OVER
The key to getting started as a voice-over is, first of all, to find out if you have a voice and personality that is suited to this type of work. To do this you first need to be screened by a professional voiceover training company, such as www.gravyforthebrain.com.
It is worth investing some time and a little money in this initial stage, rather than diving in headfirst and spending time and money on developing yourself only to find you do not have what it takes.
Like singing though, there are many people who have undiscovered talents – and you could be one of those undiscovered voiceover talents.
One of the biggest reasons people want to get involved in the industry is that it enables them to have a more flexible lifestyle, be their own boss and work from home. You can choose the hours that suit you and most of all have fun doing something that you enjoy.
Once you have been given the green light and have had help in identifying what parts of the industry your voice would be suited to, then you need to learn the basic skills. Time and practice, with professional feedback, is paramount.
SUCCEEDING IN THE VOICE OVER INDUSTRY
The great thing about working for yourself is that you are the boss and you make the decisions.
However, you also need to approach this like a business if you want to make money and that involves being disciplined with your time. You need an understanding of your industry and marketing yourself. Also learning the technical skills necessary to produce great work.
So you are a business person, marketer, salesperson AND a voice actor!
The good news is that at www.gravyforthebrain.com, we are here to help you at every stage of the journey. We have helped thousands of voiceover artists succeed and we are committed to helping you achieve your goals in the voiceover business.
For more information on voice acting visit our series of posts on how to become a voice actor