This voice over guide should help you understand what voiceover is all about.
I'm often asked…
How do I get into Voiceovers?
…by a multitude of people from different professions and it's a complicated answer. It's complicated because the question is a little ambiguous; it could mean…
I'm an actor, how do I get voiceover work?
…or it could mean…
I've been told I've got a nice voice and that I should make some money doing commercials – how do I do that?
Different questions, different answers. More than that, why am I, Hugh Edwards, singled out to be asked this question so many times?
Let me explain. I'm a voice director and a casting director. I've worked in VO for the last 15 years, have cast literally thousands of jobs and have directed hundreds of individual projects. I've worked in gaming, television and films through my company High Score Productions. More to the point though, (with Peter Dickson) I've trained over 20,000 people indirectly with our online voice courses, and more than 2,000 people in-person to be voice artists, so I feel like I'm qualified to answer the question in the first place.
Which one? The question I'm going to answer is the latter question – how does one become a voice artist with zero-experience? (The trained actors out there can pick it up about half-way through!)
A Voice Over Guide For Beginners
Firstly, here's what you need for a career as a Voiceover Artist:
A good voice – aurally and (often overlooked) physiologically.
Training
Perseverance, grit and determination
A thick skin
(Initially) a second/alternate source of income.
That's it! That's all you need.
But hang on, being a voiceover artist is just talking right? Surely anyone can do it?
This misconception is at the root of so many wasted hours of effort and disappointment that it isn't funny. It's the same as saying
I can hold a spanner, so I can fix a Forumla 1 car
…quite clearly not the same thing. Being a professional voice artist takes a huge amount of skill, lots and lots of practice and hard work, much rejection and disappointment failing many castings, perseverance, more practice, experience and…talent.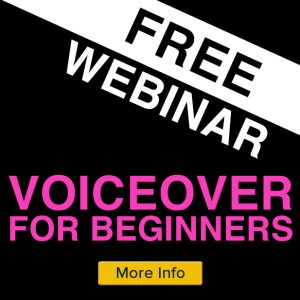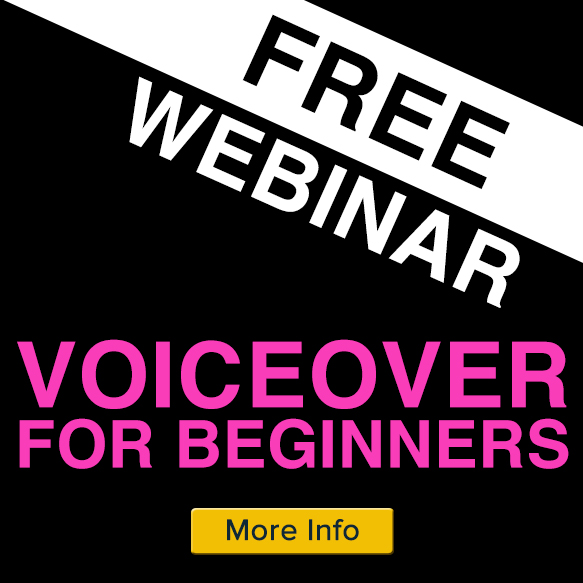 Eyes hurting from all that reading? You can always watch our webinar instead!
Still Want to be a Voice Artist?
So if you're still with me after all that, and you want to become a voice artist, then good for you – you can do it, and there is room in the industry for everyone. The great thing about the voiceover industry is that it's an ever-changing beast and the old stalwarts rarely move with the times; fashions change, fads come and go and so there is opportunity everywhere.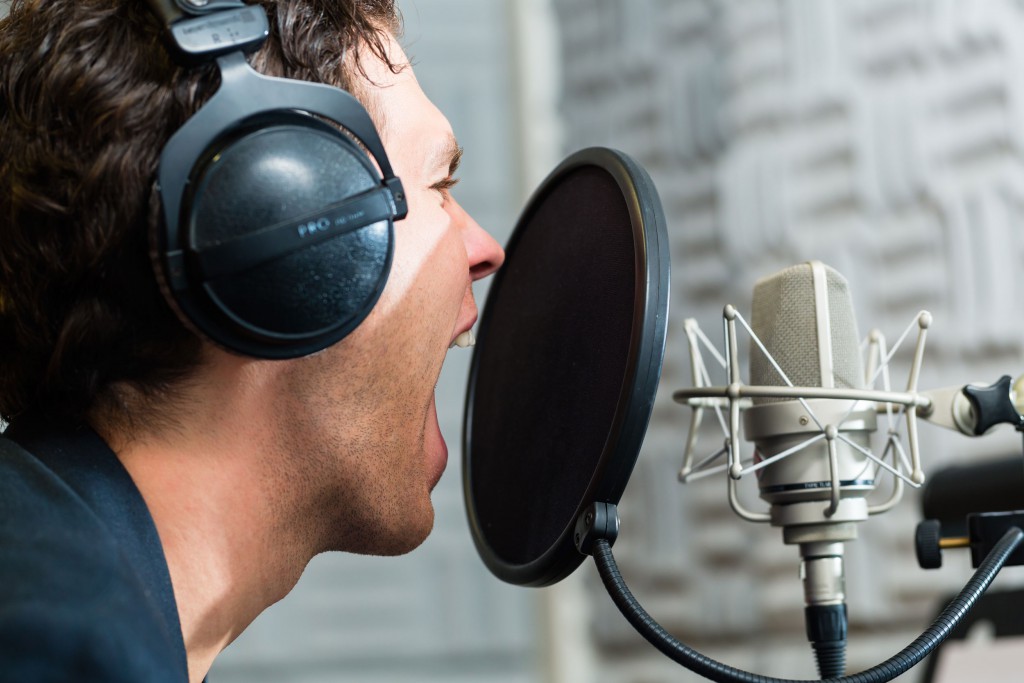 The Internet Century has brought with it access to millions of jobs and employment opportunities and best of all….
…it's easy to stand out and be noticed because there are so many voiceover artists out there who don't have points 1-5 above.
What Work is Available?
There are many areas of the voiceover industry where one can find work, for example:
Commercial Voiceover (TV)
Commercial Voiceover (Radio)
Commercial Voiceover (Web)
Commercial Voiceover (Cinema)
Narrative Voiceover (Documentary, Web)
Narrative Voiceover (Character-based)
Corporate Voiceover (Working directly for companies)
E-Learning Voiceover
Character-Based Voiceover
Voice of God (Live Events)
Dramatic Voiceover (Radio Plays etc)
Audiobooks
Telephony & IVR's
Gaming Voiceover
…and that really is just using broad strokes, and just a start. In fact, there is so much voiceover done in the world today that you barely notice that it's there half the time – apps have it, programmes have it, trains have it, museums have it, your phone has it, shopping malls have it….the list goes on.
There is work here, and there's plenty of it.
Great! How Do I Get Started!
You start with the first realisation – you currently have zero hours voiceover experience and are at the back of the queue. This isn't to say that you won't be a good voice, it's that currently (even if your voice is nice to listen to) you aren't a voiceover artist yet. Applying for jobs at this point can actually hinder your career – if you do actually get one, and then find yourself in a studio, the chances are you're going to seriously flounder once push comes to shove, and you'll then be remembered with that client for being an amateur.
No James, I said I wanted a 'half-beat'. I didn't want you to hit the microphone…
The first place to start is to take a beginners training course. This is going to get you started and a good one is going to give you a grounding and basic theory which you can then start practicing with.
You will, of course, come across many 'old timers' in the voiceover industry who will tell you:
I have been voicing for the last 20 years and I never had a days training in my life!
…which may be true (it probably isn't), but that simply doesn't apply to new voice artists wanting to be in the industry today. There were (comparatively) few voices around then, and maybe it was ok to learn how to do voiceovers in front of clients (and on their time and budget) but that certainly isn't the case now. You also didn't need to have a degree to be a school teacher then, but you do now. Things change.
Then, you practice. You practice. You practice.
If you want sample scripts, you can get them at Gravy For The Brain here, or you can simply pick up a newspaper and start reading. What you need to learn first are core-reading skills.
Stop Blocking Beginners!
Blocking is a term that Peter and I have coined over the last 4 years of training new voice artists. It effectively means this: Read a bit, deliver a bit, read a bit, deliver a bit.
What it means is that people haven't learned to sight-read properly and so read their scripts in 'blocks'. You can see it quite clearly in the waveform of the final recording (it looks like blocks rather than fluid dialogue) and it just isn't how people speak. From our experience over 80% of new voices block their dialogue without realising they are doing it. It's quite easy to overcome with the right training, but sight-reading is one of the most important skills that you will learn, and right at the start.
The net result of someone who hasn't learned to sight-read properly is that their deliveries are very staccato in nature and to voice/casting directors, a dead giveaway that this person is an amateur, who they can avoid.
I only mention blocking to illustrate one of literally hundreds of skills that need to be learned as a voice artist.
Is that It? That's Easy!
Other skills you will need to learn (and this is most definitely not a definitive list – as with all humans, we are individual and everyone is different and needs differentiated training) – are as follows:
How to interpret copy
How to properly project
Microphone control
Hydrating yourself and the ramifications of why that's important
How to breath life into your deliveries
Characterisation
How to stop plosives
How to use the bass-proximity effect
How to use the content of your copy in your delivery
Mastering emphasis
Mastering inflection and prosody
Accepting and learning to love your own recorded voice
The art of self-direction
The art of listening to directors
How to create different styles
Applying humanisation to your delivery
How to do commercials – 'in-town' and 'out-of-town' reads
The current fashions and trends in narration
…et cetera, et cetera, et cetera. And there is much more than this. So, yes, you have a great voice, but no you aren't yet a voice artist – you need training.
Recording Everything
The trend today is moving away from recording in professional recording studios in towns and cities, and moving towards voice-artists recording themselves in their own home studios. This has come about for a few reasons; the internet century has brought huge competition to the VO world and VO's who can offer a complete recording for, say, an audiobook without incurring a studio charge (or for less than the combined voice fee and studio fee) have started to win the battles.
The second reason is that the internet has opened up all voices to be able to work for anyone globally, which distance negates (in many cases) the possibility of client and voice being in the same room at the same time.
The third reason is the rise in technology of both internet speeds and ISDN replacements (i.e., peer to peer studio connections) and things like skype, all of which have dramatically dropped in price and so are no longer the sole domain of recording studios.
Lastly the cost of setting up a home studio has also dropped dramatically, and you can now create a viable recording space with a good mic and software for less than £400/$600 – a sound investment if you'll excuse the pun.

What does this mean for the budding voiceover artist? It means that there is both extra opportunity in the marketplace to harness skills you already have, and/or that you also need to learn how to record and process your voice if you want to compete in today's marketplace.
The people who succeed here are those who accept this as an exciting step forward rather than groan about another thing they have to learn – again, the 'old-guard' aren't moving very quickly in this space, and there is opportunity because of that.
How will I get Work?!
In the old days, you had to have a voice agent or an acting agent to get voiceover work, or I suppose you had to be courting the daughter of the Director General of the BBC. Thankfully, those days are gone, and there is now a plethora of opportunity on the internet.
Pay To Play sites, or subscription sites, are now hugely popular and you can easily join some of these, pay your money and start receiving auditions. Effectively they are voice agents that you pay to be on the books of.
These are a fantastic resource for one very important reason. My experience of casting from these sites is that more than 80% of the casting clips I receive back are appalling and go straight in the bin. This means that it's comparatively easy to stand out on these sites just by learning how to cast properly, which most voices don't do well.
Again though, this needs a little training, it's easy to do, but it's not immediately obvious, which is why people are so bad at it en-masse.
The Voice Acting Gold Rush
The Internet Century has also brought unprecedented access to every single company in the world who you can approach for voice work. Many will not need voices, many will, and many more do need them and do not realise that they do – the gold rush has started so be quick to get your patch.
Finally, the other question that I'm frequently asked is:
How long does it take to become a professional voice artist?
The answer of course is:
How Long is a Piece of String?
…it differs for everyone entirely, based on their previous skill-set, their level of training, their self-awareness, their intelligence, their desire to succeed and all the other things that affect how quickly people learn.
As a rough guide though, from complete beginner to a working voice artist, we have seen our students (on average) do this in about a year. Some students are super-keen and practice every day, and do it in 3 months, some do not practice at all, do it as a hobby or a sideline, and are ready in a year and a half.
It's important to note here, that this is my impression of how long it takes to go from a cold start to being a working professional, and of course there are many things in between – you can voice before that point, and it's a good idea if you do – contact charities, hospital radio, friends who own companies anyone who can help you on your path.
This is why you probably need a second source of income as you learn – it's incredibly rare that people can just dive straight in and make a living out of voiceovers straight away – it takes time and effort to learn the skills and build up your client list.
It's also why you need perseverance, grit and determination.
It's not all doom and gloom though. It's a marvellous career – you meet lots of interesting people, you can earn huge amounts of money, your voice (and therefore you) can become global entities (for example, the products I've directed have had a combined audience of over 300 Million people at the last rough count!) but it isn't easy.
So to summarise this voice over guide, you need:
A good voice – aurally and (often overlooked) physiologically.
Training
Perseverance, grit and determination
A thick skin
(Initially) a second/alternate source of income.
And the rest….is up to you….