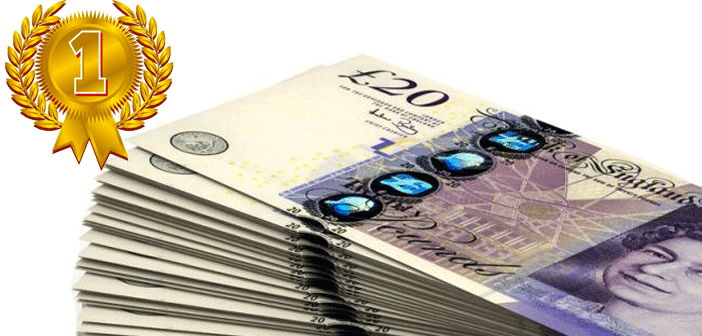 What are the top voice over career salaries? This question gets a lot of attention, especially from newcomers to the voice over industry.
There is a lot of variables that go into any final set of earnings: how much work you can do in a week, how much travel is involved, how many interviews, length and size of projects…
Creating a successful voice-over career is possible. Moreover, you can not only earn a living but achieve a great lifestyle!
If you love being creative and having a varied career, then you will feel inspired to work hard and reach your full potential. Not only will you realise your talent but also achieve financial success.
The top voice over salaries are achieved by building a strong career and personal brand.
What is a strong personal brand?
A great career is built on your reputation, network, branding, marketing and of course talent (constantly stretching and improving your skills).
One of the defining points in any success story is the amount of hard work that goes into becoming the best. While you may be genuinely have a natural gift for voice over, you will still need to get in front of the right people to get hired.
Top Voice Over Career Salaries
It may come as no surprise that the highest paid voice over jobs are generally animated characters in feature-length cartoons.
With more animated features made than ever before, the market is booming. The bad news though is that it is increasingly getting tough for regular voice over actors to land these roles.
While 'A' list celebrities can command big money, unknown talents often do not get paid anywhere near the same for these projects. Take the case of Spencer Lacey Ganus, a 15-year old who played the voice of a young Elsa in Disney's 2013 mega-hit "Frozen"; she home less than $1,000 for her trouble. The movie itself went on to gross more than $1 billion worldwide!
'A' list actors add their weight and popularity to films and in today's age where celebrities are brands, that means they carry a substantial pull effect for a new animated film when they star in it and subsequently promote it.
Bruce Kronenberg, a voice over instructor at Abacus Entertainment, points out that the internet has dramatically increased the number of voice over jobs in the advertising industry. Voice over work is split between union and non-union jobs, and the non-union market, in particular, has grown massively. Anybody can compete for work anywhere.
FREE EBOOK and MINI COURSE
Download Our FREE EBOOK on how to create your own voiceover business and take our FREE mini course. Start using your natural talent to earn money.
Some of the Top Voice Over Career Salaries Paid To A Listers
There are lots of examples, but we have chosen animated films that are familiar to most of us:
Ben Stiller: Madagascar film series – Estimated $5 million: Madagascar: Escape 2 Africa
Tom Hanks: Toy Story series – Est. $15 million: Toy Story 3
Adam Sandler: 8 Crazy Nights and upcoming Zookeeper -– Est. $2 million: Zookeeper
Owen Wilson: voices in Cars and upcoming Cars 2 sequel and Marmaduke – Est. $1 million
Nicolas Cage: G-Force – Est. $2 million
Cameron Diaz: Shrek series – Est. $10 million: Shrek Forever After
Johnny Depp: voice in Rango animated feature – Est. $7.5 million
Steve Carell: voices in Over the Hedge and Despicable Me – Est. $500,000: Despicable Me
Reese Witherspoon: Monsters vs Aliens – Est: $10 million: Monsters vs. Aliens
Just to give you a feel for the size of the industry, the top five animated movies of all time—which include names like Toy Story 3, The Lion King and Despicable Me—have grossed more than $5 billion.
Top Voice Over Career Salaries
Of course the A list actors earn a considerable amount of money from their 'regular' day job which is acting in big blockbuster movies.
The names of top voice over artists may not all be household names in the same way as movie actors but they their massive earnings are still highly impressive.
If you take a look at the 'A' listers regarding voice actors you can see that voiceover earnings can take you to a new level of income:
Hank Azaria: voice actor for the TV series, "The Simpsons". Hank is the voice behind the characters: Apu Nahasapeemapetilon, Moe Szyslak, Chief Wiggum, Comic Book Guy, and other characters on The Simpsons – Est: $400,000 per episode.
Nancy Cartwright: voice actor for the TV series, "The Simpsons". Nancy is the voice for characters, Bart Simpson, Ralph Wiggum, and Todd Flanders – Est: $400,000 per episode
Frank Welker: voice actor for many cartoon characters including Pinky and the Brain, Scooby Doo and also for the Transformers films – Est: net worth $15M
Billy West: known for voices in such cartoons as Futurama – Est: net worth $35M
Here is an interesting infographic that gives you an idea of the net wealth of some of the biggest names in voice over.

What Can You Expect To Earn As a Voice Over Actor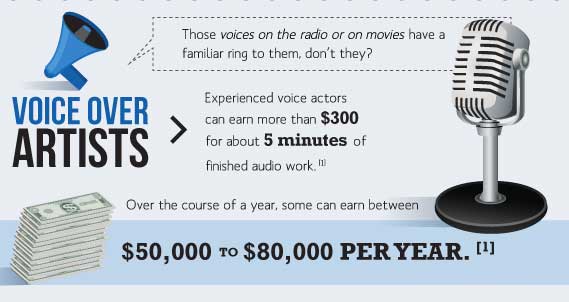 First of all, an excellent place to start is by taking a look at our voiceover rate guide. In other words, this gives you a good idea of the rates that you should charge in the industry.
Of course, to earn a decent living, you need to get the volume of work as well.
Established professional voice over actors can earn between USD 500 – 1000 for an hour. Naturally, they can command these sorts of rates because of their skill, experience and expertise.
When you are starting it can be tempting to offer low rates. However, the danger is you then lower the prices not only for you but for everyone in the industry. Remember, your value doesn't decrease based on someone's inability to see your worth. Until you value yourself, you will NOT go further in your career. Once you realise you are worth it – it will be easy to let go of those who don't. When you are lower than market price – your message is that you are CHEAP – and you will attract that. You don't value yourself or your product.
When discussing money do not shy away from it, feel embarrassed or avoid it. Be straight-forward and direct from day one. A good thing to do is prepare well and confidently discuss your rates. The more confident you are, the better it will come across and clients will either accept it or not. There are plenty of good clients in the market and it is those ones that you want to keep.
The average across the industry though seems to be about $200 for a job; so that is not necessarily an hour though. Many sites give an average rate per hour which across the industry varies between $250 – $500. The rate per hour for instance of voicing for a video game work is somewhere between $150 and $200 an hour, usually with a two-hour minimum.
Putting it all together you can earn up to $325 for only 5 minutes of work and as a salary voice over artists can make between $50,000 – $80,000 per year.
Learn more about setting up your voice over business.
FREE EBOOK and MINI COURSE
Download Our FREE EBOOK on how to create your own voiceover business and take our FREE mini course. Start using your natural talent to earn money.