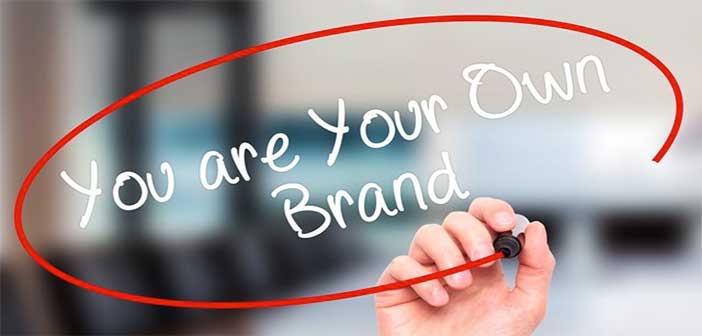 Developing a personal branding as a voiceovers actor provides you with critical benefits:
Showcasing your special talents
Positions you in the mind of your target
Distinguishes you from your competition
Provides a clear direction and set of goals
Delivers a higher perceived value
Provides a consistent framework for your communications
But this raises an obvious question: Why do voiceovers struggle to stand out from the crowd and succeed?
One reason for this is that many voiceovers don't invest the time to develop their brand and plan their goals.
Looking across Twitter or Facebook it isn't hard to come across some random acts of marketing that are symptoms of this.
RANDOM ACTS OF MARKETING
Random acts of marketing are attempts to increase brand awareness, drive revenue or get noticed BUT that are NOT integrated, can not be easily measured or justified and does no strategy or tactics.
Random acts of marketing lead to wasted time, little or no benefit in the form of brand awareness, new clients and often lead to more confusion around how people perceive your brand.
Being busy isn't enough, especially if random acts of marketing are taking your time away from high-value activities that have a direct impact on the growth of your voiceover business.
Your personal brand forms the framework for your marketing and career.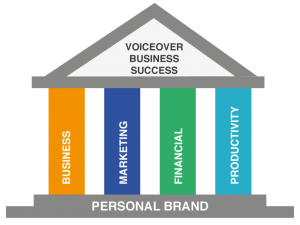 BRANDING YOURSELF HELPS YOU
Most people don't know how to go about creating their own personal brand.
What can a lone individual do to create their own personal brand?
Now it is easy to over complicate things and we are not in favour of that at all.
The hard work in creating your personal brand though means you do need to work on understanding yourself and identifying how you fit to the market.
Once you have made the commitment and produced your personal brand you have a framework to guide you.
WHAT IS PERSONAL BRANDING?
Personal branding was popularized by an article by Tom Peters first published in Fast Company Magazine (A Brand Called You) over 10 years ago.
Personal branding is treating a person like a brand and ensuring they are 'packaged' and marketed to a target audience to create the desired impression.
Unlike a product, people already have their own personality, experience, skills and talents.
So personal branding is about packaging these to help them stand out in their market and compete more effectively.
We all buy brands of some sort from cars (Ford, BMW, Toyota…) to everyday household goods (Colgate, Kellogs cereals, Marmite…).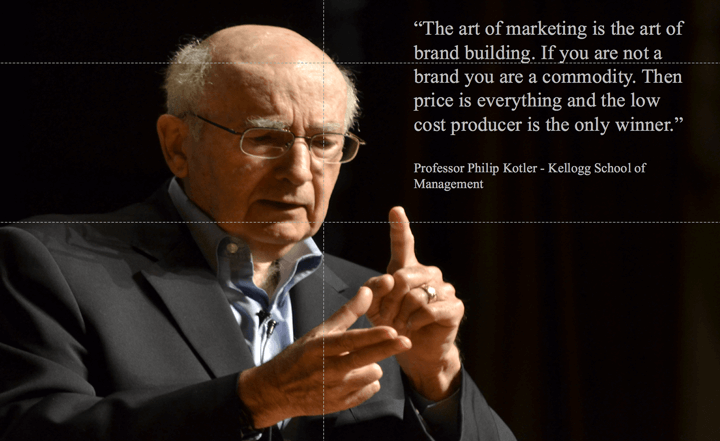 WHY BRAND?
Brands make it easy for us to make decisions, we have certain perceptions about their quality and what they deliver.
There is an amazing amount of money and time spent on getting products to appeal to a particular audience and stand out from competitor products.
All big brands spend a lot of time understanding their customers – who buys their products, why they buy them and how they buy them.
This is equally true of large brands like Hp, IBM…they also research how and who buys.
Now when many people think of the term "brand" they think of pretty colours, expensive logos, fancy graphics, Facebook cover photos and advertisements.
But the truth is that branding is much more than a logo. In reality, the logo is the easy part and only one small, yet very important part, of building a brand.
Smart and successful people set clear goals, invest in their brand and value how others see them. They create a powerful brand identity with supporting visuals, language and more. They colours, language and visuals that align with who they are as a brand and not simply create a random logo.
Your personal brand is your promise. Each time you put yourself out into the market you want potential clients to value the services you offer. In the words and images you put together, you create a promise of quality. Your brand is how people trust you.
Are you in control of your personal brand perception in a positive way? Your personal brand is your personality, communications, behaviours and the perceptions as people experience you.
You can't control perception. However, you can influence perception if you know how to build, launch and manage your personal brand. Every brand touch is an opportunity to influence perceptions, to build your reputation.
At the core, your brand is rooted in who you are and how you care about others. It's not just about you. It's not just about pretty colors or a logo you pay a marketing or branding agency big bucks to design. It's not a brand manual the same agency delivers and you don't look at again until the next agency asks for it.
THE EIGHT STEP PERSONAL BRAND PROCESS
At Gravy For The Brain, we have created a voiceover business forum – part of the Voiceover Mentoring area for GFTB Members – to help voiceovers create their unique brand and build a successful voiceover business.
The guiding principles focus on your strengths and identify your uniqueness. These help you create a powerful personal brand and that can accelerate the success of your voiceover career.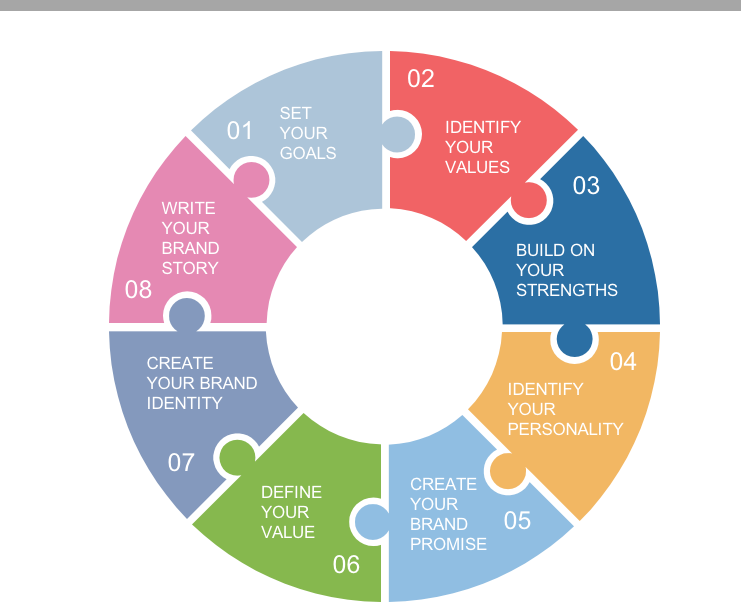 Set Your Goals
Identify Your Strengths and weaknesses
Find Your Unique Values
Identify Your Personality
Define Your Style
Create Your Brand Promise
Produce Your Visual Brand Identity
Write Your Brand Story
#1 – Goals. Setting goals helps you get clear on what you want. Goal setting helps you identify what distractions may be blocking your success. Goal setting, including writing your goals, helps program your subconscious mind and activate mental powers that will enable you to accomplish these goals.
Set goals so you can track if your efforts are producing results and helping you achieve your life goals. If you don't set goals how do you if your doing well?
Take your goals and turn them into SMART objectives.
Do things each day that help you achieve your objectives.
#2 – Strengths. Personal branding is all about leveraging your strengths to stand out and differentiate yourself. Our strengths are what makes us unique, authentic, and real. Yet we tend to fall into the trap of trying to fix our weaknesses.
Build on your strengths, the things your good at.
Know your voice demographic – how your voice fits to the market. The words that people use to describe your voice.
What other skills do you have e.g. sales, organizational, technical…
#3 – Values. Values help you establish your sense of purpose and direction for your personal brand. They act as guideposts that assist you in evaluating choices in your life. They are the core principles that give meaning to your life.
What matters to you?
What do you value in what you do and guides how you act?
Identify your values – clients are more likely to like you if you have common values.
#4 – Personality. Everyone is different and your personality forms an important part of how you interact with others. Your personality can't and shouldn't be fague. It is the genuine traits that are part of you and how people remember you.
Do you know your personality – really?
Knowing who you are is vital to how you then interact with clients – it is one of the most of your most valuable things about you – are you making the most of it?
#5 – Style. When it come to who you as a brand, you also have a unique style when exercising your skills and living your life. This style is driven by your personality, principles, and philosophies. Ultimately, how you behave and act in your professional life leaves an emotional impression on others.
Your style is the combination of your visual identity, your tone of voice and personality
Defining a unique style helps you to be memorable
#6- Promise. Your unique promise of value and your personal brand statement are closely linked; the statement is an expression of the promise. Both of them focus on what your target audience expects from you; they create an expectation of what you can deliver.
Create a powerful brand promise that communicates what value you offer
Help clients easily understand how you differ from others in the market
#7 – Visual Brand. Your personal brand needs a clear and unique visual identity made up of graphic elements, images, fonts and other parts. Define your brand through design and words.
Create a strong visual brand – unify it across all channels
#8 – Write Your Brand Story. Your brand story is much like the story of a product or service's brand – the goal is to reach your audience on an emotional level. How you write it can make the difference in how people connect with you.
Create compelling copy that tells your story and helps clients remember you
Stand out in a crowded market
If you want to work on this and use the full guide then join the forum.
KEEP IT SIMPLE AND FOCUSED
One of the critical aspects of being successful in marketing is to focus on your clients/customers.
Marketing can get very complicated, very quickly so it is important to keep a focus and make it simple.
A great example of focused marketing is the concept of OKRs, or "objectives and key results" – an idea developed at Intel and used by Google.
The idea behind OKRs is that the company as a whole and each team within that company has one main objective and three measurable key results. If you achieve two out of three of these results then you've achieved your overall objective and if you achieve all three, well then you're really at the top of your game.
It's clear how this principle works as a top-level idea to keep teams on track in a big organisation. BUT, you can actually use this idea right now for yourself, it isn't just for big teams, you can adopt it to help your focus on delivering your personal brand. Here's how:
GET DOING
At the start of each week set objectives that focus on your clients.
Then outline the three key results that you can expect to see by the end of the week – keep these clear and measurable. By documenting this process at the start of the week, you and your team will find it easier to avoid low-leverage activities and "random acts of marketing" and focus on activities that will help you get the results you need to reach your bigger objective.
As the week progresses, you should be checking your predicted results against your actual results and adjusting your action steps accordingly.
(Note: this process can be done bi-weekly or even monthly for larger projects, but should be revisited regularly in order to keep all marketing activities on-track)
USE THE RIGHT TOOLS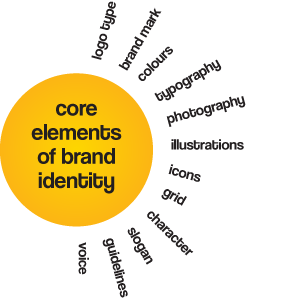 Ever find yourself confused by how many different tools there are to market yourself?
In terms of social media alone there are literally thousands of tools and apps you can use.
Choosing the right tools can take ages and learning how to use them equally time-consuming.
There are low cost and free tools that deliver professional results – from branding to marketing on social media.
Producing your brand for instance, needn't cost a fortune. You probably already think this is something that only graphic designers can do or help you with.
This isn't true and with the right tools, you can create a powerful visual identity.